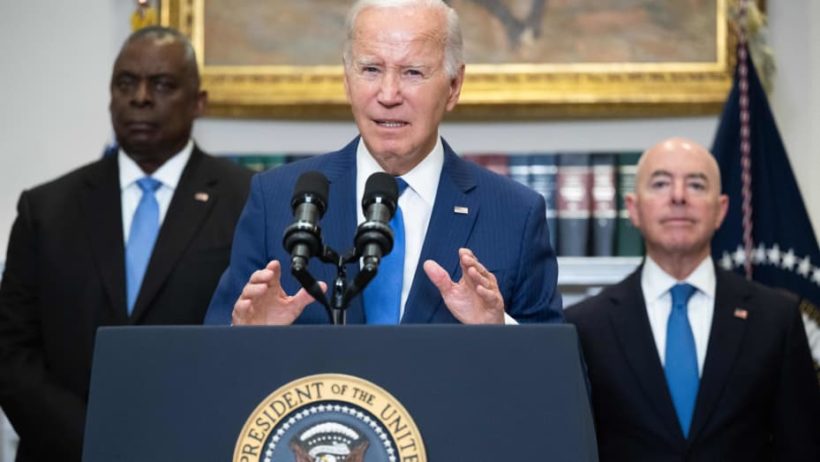 President Joe Biden will address the United Nations General Assembly on Tuesday, where he plans to promote democracy and advocate for increased support for Ukraine.
For Biden, it's another opportunity to advance the ideas of diplomacy and democracy against those of aggressive autocracies, as he did at the recent Group of 20 summit earlier this month.
″[Biden] will lay out for the world the steps that he and his administration have taken to advance a vision of American leadership that is built on the premise of working with others to solve the world's most pressing problems," White House national security adviser Jake Sullivan said in a briefing Friday.
Biden's meetings, speech
Leaders from at least 145 countries are slated to attend with a few notable exceptions: France, the United Kingdom, China and Russia will all be absent, meaning four of the five countries that hold permanent seats on the U.N. Security Council will not be in attendance.
The absence of China and Russia gives Biden an opening to advance ties between the United States and smaller, developing nations.
Biden is slated to meet Wednesday with President Luiz Inácio Lula da Silva of Brazil, a key leader in the Global South who has also been a proponent of peace talks between Russia and Ukraine. Lula has argued the U.S. and other Western nations are prolonging the war with their defense support.
The president will also meet with the leaders of the five central Asian nations of Kazakhstan, Kyrgyzstan, Tajikistan, Turkmenistan and Uzbekistan, marking the first time a U.S. president has done so jointly. He will also meet with Israeli Prime Minister Benjamin Netanyahu, the  first time the pair have met since the prime minister won reelection last fall.
This will be the first time Ukrainian President Volodymyr Zelenskyy has attended the U.N. summit in person since the war began in February 2022. He gave a prerecorded speech to the body at last year's session.
"President Biden looks forward to hearing President Zelenskyy's perspective on all of this and to reaffirm for the world and for the United States, for the American people, his commitment to continuing to lead the world in supporting Ukraine," Sullivan said.
A "substantial section" of Biden's speech will be devoted to the war in Ukraine, Sullivan said.
"He will talk about the fundamental fact that the United Nations Charter … speaks to the basic proposition that countries cannot attack their neighbors and steal their territory by force," Sullivan said, referring to Russia's invasion of Ukraine. "That was also a proposition that was at the core of the G20 statement last weekend."
U.S. support for Ukraine
Biden's message of support for Ukraine is complicated by the fact that a handful of hard-line Republicans in Congress are actively opposing more funding.
The White House is seeking $24 billion in additional aid to Ukraine, which it hoped would be passed alongside a continuing resolution to keep the government open while budget negotiations continue. The measure has bipartisan support in the Senate but is held up in the House of Representatives, where some members, like Rep. Marjorie Taylor Greene, R-Ga., have said they will not support any additional aid.
GOP House Speaker Kevin McCarthy is in a precarious position on the issue of Ukraine as his slim majority places him at the whims of every member of his caucus. Conservatives balked at McCarthy's proposal last week to pair Ukraine aid with additional border funding.
Zelenskyy will travel to Washington, D.C., on Thursday to meet with Biden at the White House and speak with lawmakers. Unlike his visit in December, Zelenskyy will not address a joint session of Congress. Rep. Mike Turner, R-Ohio, the chair of the House intelligence committee, said Zelenskyy will be "very, very persuasive."
"Zelenskyy is a great spokesperson," Turner said on CBS News on Sunday. "He really makes the case better than anyone."
It's a position the White House agrees with.
"He has proven over the course of the past 18, 19 months, that there is no better advocate for his country, for his people, and for the urgent and continuing need for countries like the United States and our allies and partners to step up to provide the necessary tools and resources that Ukraine needs," Sullivan said.